Buyer's Guide
Customer's guide
Our goal is your satisfaction. Here you can learn to find your perfect size and color, and how to put on a wig, explore full lace cap style, and the difference between human hair and synthetic wigs before your buy.
1.How to find your cap size?
Your perfect wig starts with finding the right fit.
Here are the measure guide:
1.Circumference:
Measure all around the head. Position tape measure so its edge follows the hairline around the head and nape of the neck.
2.Front to Nape:
Measure from hairline at center of forehead straight back over crown to center of hairline at nape of neck.
3.Ear to Ear across forehead:
At front of ear, measure from hairline at base of sideburn, up across the hairline along forehead to same point in front of other ear.
4.Ear to Ear over top:
Measure from hairline directly above the ear across top of head to the hairline directly above the other ear.
5.Temple to Temple round back:
From temple to temple across the back of head.
6.Nape of Neck:
Measure the width of hairline across the nape of the neck.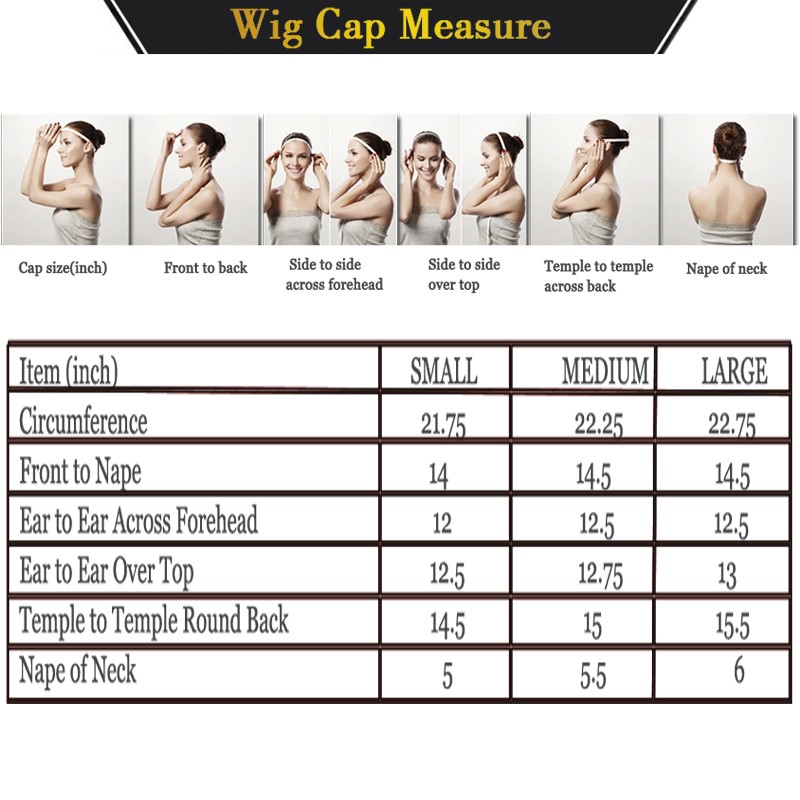 2.how to choose hair color?
Different settings on individual monitors may distort or change colors. The safest way to get the color that best matches your own hair is to take advantage of our Color Chart.
3.How to measure the hair length?
The hair length should be from the head top to the hair bottom as the hair is straight. The curly and wavy wigs are processed from straight wigs, so in the same length, curly and wavy wigs will be shorter by 1-2 inches (it depends on how deep the curl is) than straight wigs.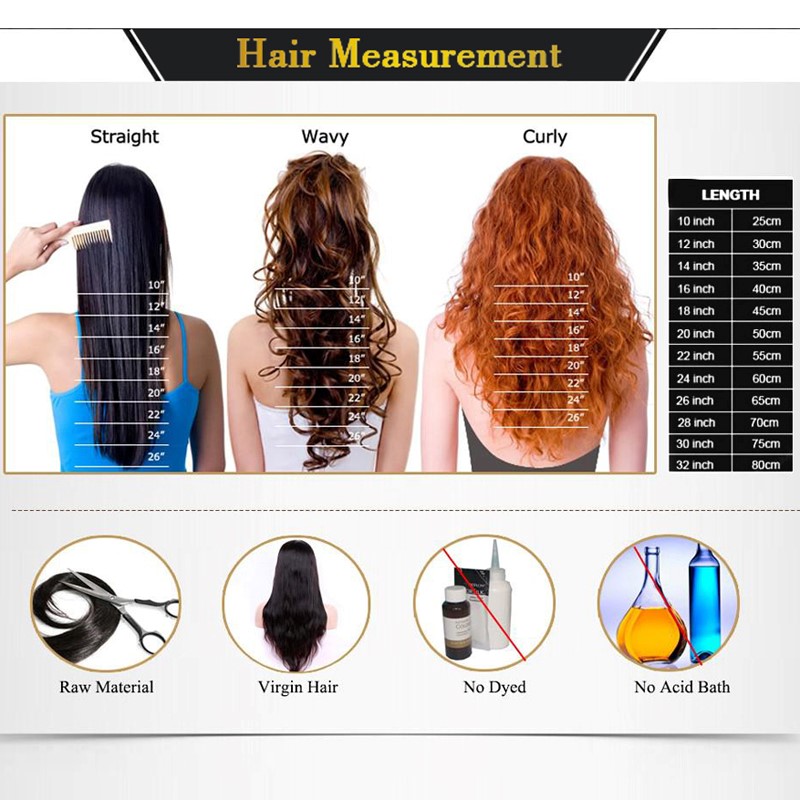 4. How to put on a wig ?
Cut the extra lace in the front of the cap(glue less cap) or around the cap(other full lace caps which need to use glue).
Braid your own hair, optionally put on your wig cap.
Fix your wig by combs or glue(according to the cap construction you choose).For glue less cap, put the cap on your head, and use the combs sewed inside the lace cap to fix your wig.For other caps, instead the combs, use glue around your head circumference to fix your wig.
Style the wig as you wish.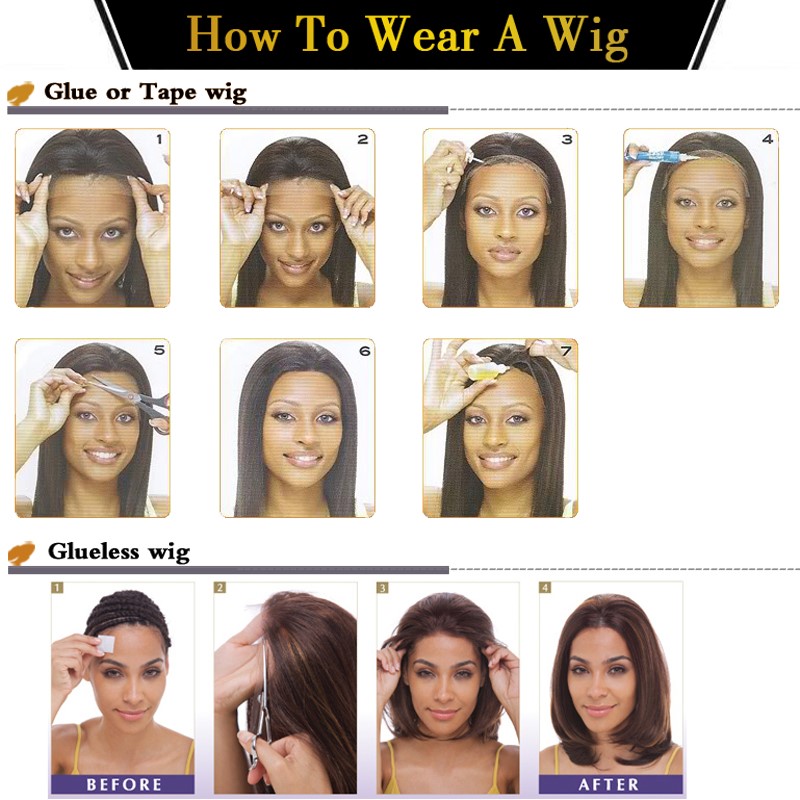 About full lace cap styles
1.Full lace wig cap style.
• Full Lace Cap A,with strech, can be high ponytail.
• Full Lace Cap B,with strech and strap /combs, can ajust the cap size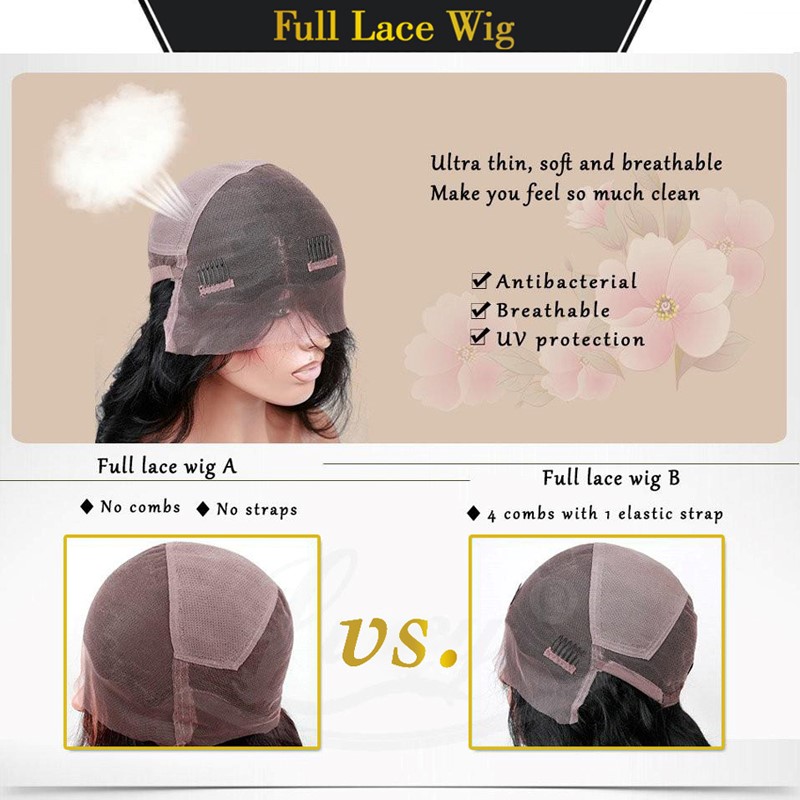 • Gluless full lace wig cap,only use glue on the front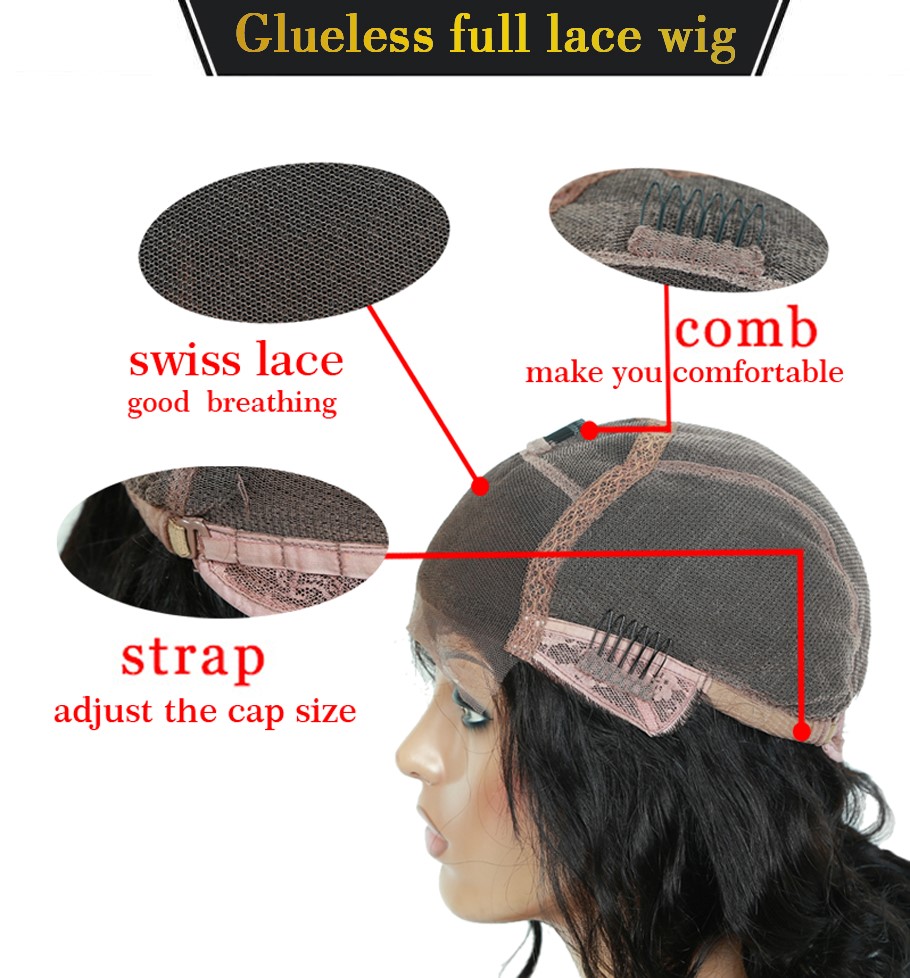 2.lace front wig cap.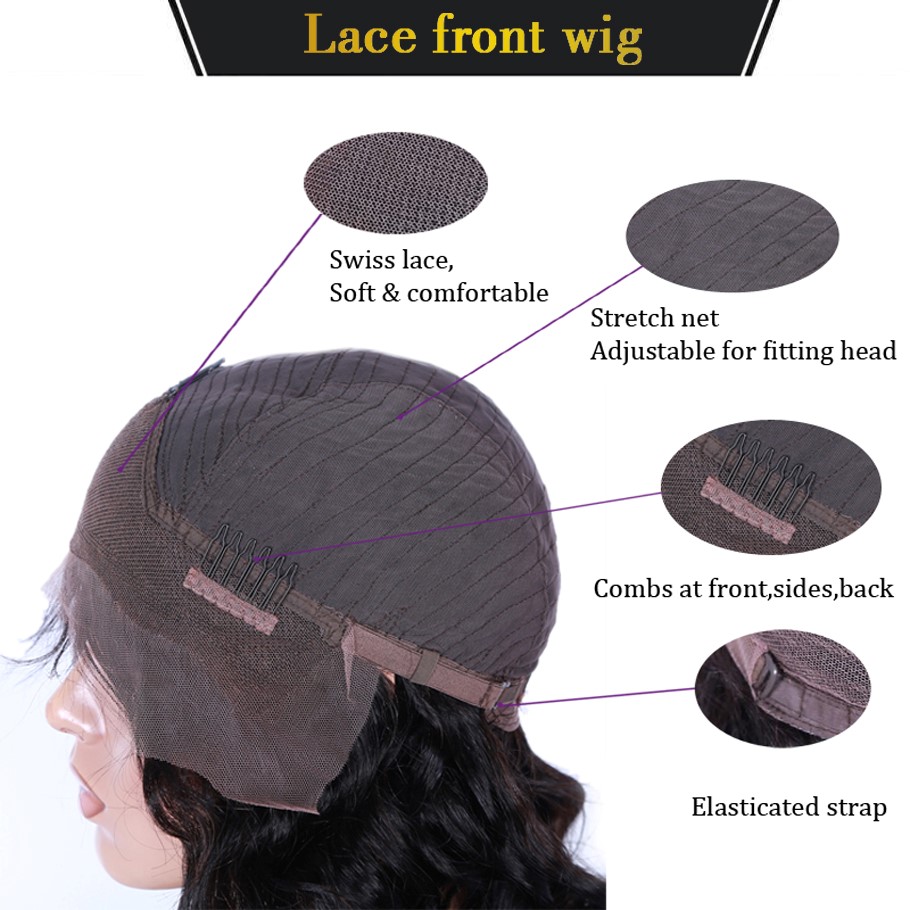 3. Silk top lace front wig
• 4x4 silk top, looks more natural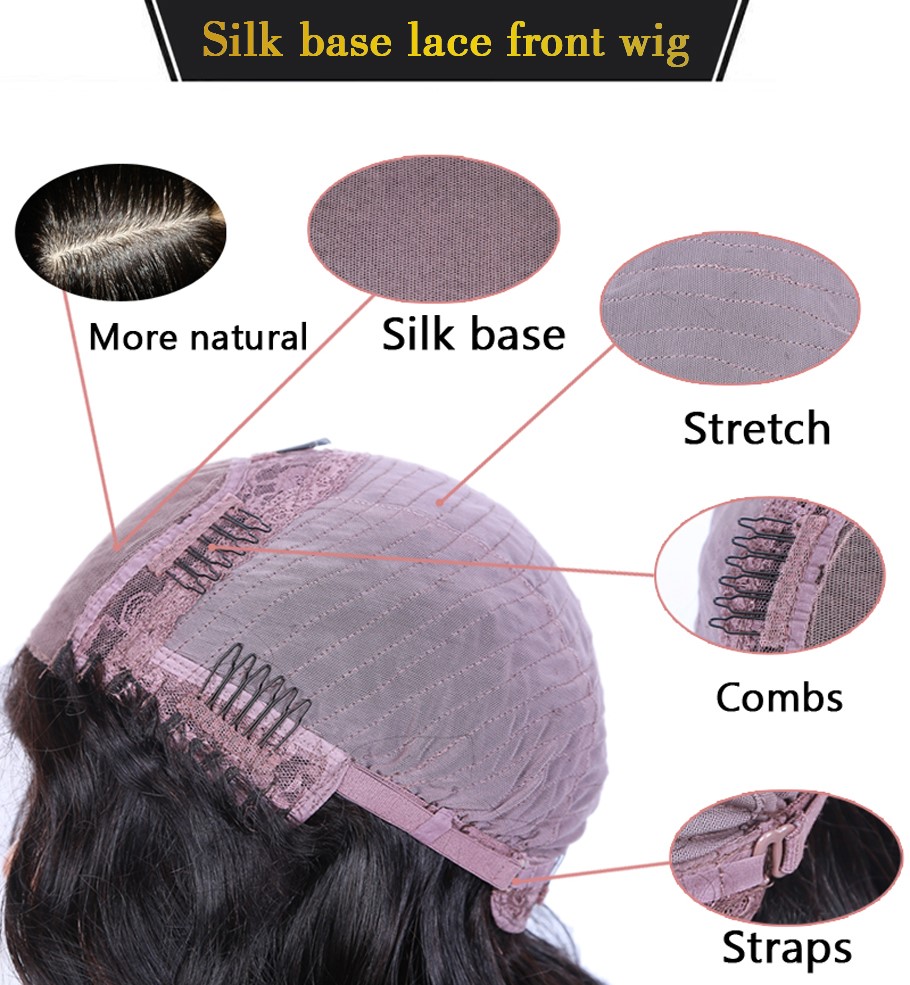 How long can I expect my wig to be arrived?
Please note that the processing time is differently according to your custom options and product collections.
Human Hair Wig
| + | Regular Order | Regular Silk Top Order | Custom Order | In Stock Items |
| --- | --- | --- | --- | --- |
| Preparing Time | 3 working days | 5 working days | 30 working days | 1-2working days |
| Shipping Time | 3-5 working days | 3-5 working days | 3-5 working days | 3-5 working days |
| Total | 5-8 working days | 7-10 working days | 33-35 working days | 4-7 working days |
Human Hair Extensions
| + | Clip Ins | Hair Wefts | Hair Closures |
| --- | --- | --- | --- |
| Preparing Time | 5-7working days | 3-5 working days | 3-5 working days |
| Shipping Time | 3-5 working days | 3-5 working days | 3-5 working days |
| Total | 8-15 working days | 6-10 working days | 6-10 working days |